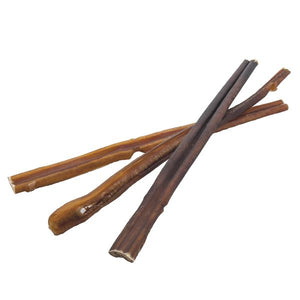 Bully Stick Standard Dog Chew, 12-in, each
These 12-Inch Odor-Free Bully Sticks are perfect for both large and small dogs. These odor-free bully sticks are natural beef chews that provide plenty of chew time for larger dogs and last even longer when given to small dogs. All bully sticks promote healthy teeth and gums because of the chewing action required to eat it.
Odor-free bully sticks are cooked longer to reduce their moisture content and smell. When in contact with moisture, including dog's saliva, some natural bully stick odor may return.
Single-ingredient, high protein chew
Highly digestible
Helps support dental health through chewing action
Since these products are all-natural items, there may be some variation in appearances and your items may look different from what is originally pictured. However, we assure you that you are still receiving the same, high-quality chews that your dogs know and love.