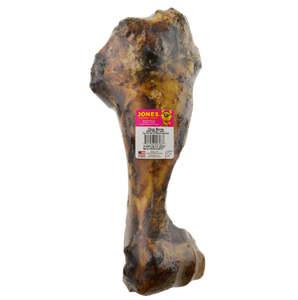 Jones Natural Chews Beef Dino Bone Dog Treat, 1-pk
Jones Natural's Dino Bone is a whole USA beef bone from the front leg, generally 12 – 14" long. No artificial ingredients. This bone is best for medium to large dogs. 100% grown and made in America.
2lbs. – 4 lbs. each / 12 – 14" long/ salt 0.26%
Ingredients: beef bone
Crude Protein Min. 34%, Crude Fat Min. 21%, Crude Fiber Max. 1%, Moisture Max. 4%
Shrink-wrapped.