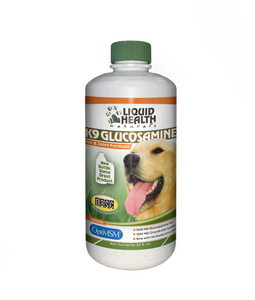 Liquid Health Pets Original K9 Glucosamine Dog Supplement, 32-oz bottle
K9 Glucosamine for dogs with chondroitin is a liquid joint supplement for dogs to help keep them healthy and active.
Nearly 25% of all dogs will develop some type of joint mobility issues over their lifetime. For younger dogs, glucosamine and chondroitin are  easily absorbed and may stimulate the production of proteoglycans, which help maintain the health and resiliency of joints and connective tissues. MSM promotes general good health. Supplements in a liquid form are shown to absorb more quickly & efficiently than tablets, offering faster results.
Liquid Health's K9 Glucosamine for dogs with chondroitin has received praise from old and young dog owners alike!
K9 Liquid Glucosamine For Dogs Ingredients
– Superior Value 
– Has 62% more glucosamine
– Has 50% more chondroitin
– Contains Opti-MSM
–  Ultra-purified and distilled to provide the purest form of sulfur needed for structural integrity of joint cartilage.
– Standard MSM is tested for lead, arsenic, cadmium, and mercury at 10ppm. OptiMSM is tested at 1,000 to 10,000 times greater sensitivity to ensure less than 0.01 ppm to .001 of these contaminants.
Dog glucosamine is intended for use with dogs to help maintain joint comfort and function.  
Ingredients: Active Ingredients: Glucosamine HCl (1,600 mg), Chondroitin Sulfate 1200 mg, MSM 1,000 mg, Manganese Chelate 7 mg, Hyaluronic Acid 10 mg. Inactive Ingredients: 100% Pure Aloe Vera Juice, Citric Acid, Potassium Sorbate, Tripled Filtered Water, Sodium Benzoate, Stevia, Vegetable Glycerin.
Statements regarding dietary supplements have not been evaluated by the FDA and are not intended to diagnose, treat, cure, or prevent any disease or health condition.