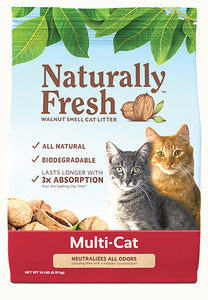 Naturally Fresh Multi-Cat Unscented Clumping Cat Litter, 26-lb bag
Naturally Fresh Multi-Cat Quick-Clumping Cat Litter is made from 100% natural walnut shells. Walnut shells have a natural ability to neutralize litter box smells better than clay, pine, corn and wheat.
Biodegradable and compostable.
Produces tight clumps in 15 minutes or less.
No harmful silica dust.
Litter doesn't stick to paws.
One bag is equal to three bags of clay litter.
Ideal for households with 2 or more cats.
Extra odor-erasing ingredient.