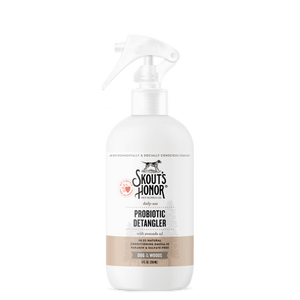 Skout's Honor Probiotic Dog of the Woods Dog Detangler, 8-oz spray
Skout's Honor Dog of the Woods (Sandalwood Vanilla) dog and cat hair detangler hydrates the skin and softens the coat for a more brushable, tangle-free pet. It contains avocado oil and topical probiotics that help support a healthy microbiome to defend against common skin problems such as itching, odor, dryness, dandruff, hot spots, yeast and excessive shedding.
Can be used for both dogs and cats.